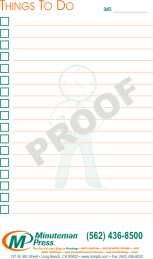 Proofing is an important part of the printing process. One tiny error or omission can cause big problems. That's why we go to great lengths to proof every job for accuracy and overall quality.
It's even more important, however, that you have the opportunity to review the document before it goes to press. After all, it's your vision and you should be the final judge.
At your option we can provide a hardcopy proof onsite, via mail or fax, or we can email a proof to you in PDF format so that you can review it online.